Lightweight
is a custom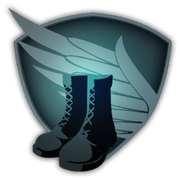 Perk in
Call of Duty: Modern Warfare: Special Ops
and
Call of Duty: Modern Warfare: Special Ops 2: Redemption
, custom first-person shooter games.
Lighweight increases the player's running spee
d. Lightweight Pro removes fall damage (with the exception of falling off the map). It also makes the player jump higher. Both Lighweight and Lightweight Pro cost 2000 CoD Points.
Basic OutfitEdit
Lightweight makes the player's character model wear light clothing. The colors varry from faction to faction.